About CHIA HORNG
Chia Horng Steel Mold Mfg. Corp. is an Taiwan Die-casting manufacturer for Aluminum alloy & Zinc alloy products.
We provides total solution services to our customers on a very economic cost and effective basis. We also cooperate with strong team venders in Taiwan, which always satisfy all the request from our customers in very short time.
Business Item
With more than 40 years of expenrience in tool build and production bussiness in Taiwan, Chia Horng provides a high and consistent quality of service as following:
- Mold design and Tool build
- Dia-casting manufacturing
- Plastic injection molding
- Post machining processing
(CNC Milling, Drilling, Grinding,Vibratory Grinding, Polishing,
Threading, HeliCoilInserts, Printing.)
- Surface treatment
(Painting, Powder Coating, E-Coating, Chromate Conversion,
Anodizing, Electroplating (Chrome., Nickel) and Shot Blast Finish
- Product assembly
- Quality check
- Export service
Quality Control
ISO 9001 certificated from Year 2012 in order to provide high and consistent quality of service from product design, tool building, part production, post machining, surface treatment, product assembly to our customer.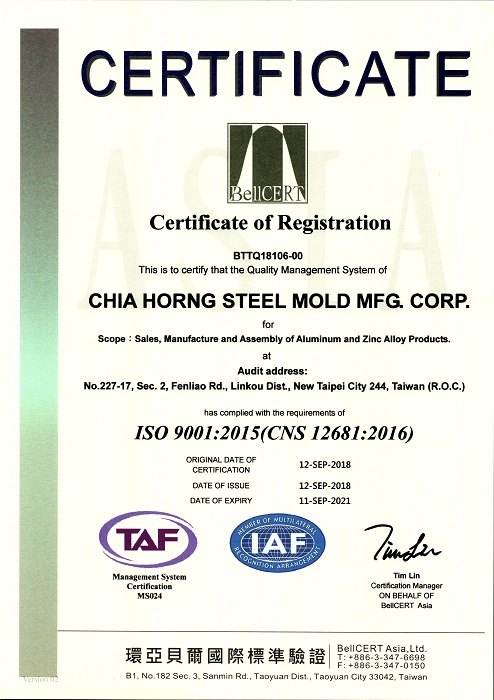 D-U-N-S® Number :656239688
This is the link of PDF file of D-U-N-S® Certified Report for your company: https://dunscertified.dnb.com.tw/en/DUNSCertifiedProfile/DCP656239688